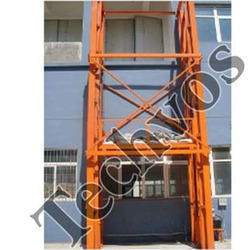 Product Description
Our consistent efforts and dedication enable us to carve a niche as a most trustworthy manufacturer and supplier of Hydraulic Wall Mounted Lift Platform. This range of platform is used in construction works for lifting materials to different heights. We manufacture this platform using best quality materials. Our offered platform is a chain lifting platform ideal for lifting the goods through the different floors. We offer this Hydraulic Wall Mounted Lift Platform at cost effective prices.
Features:
Driven by hydraulic power
Rust proof finishing
Can withstand harsh environment

Further Details:
Hydraulic Wall Mounted Lift Platform
Hydraulic driven and lift by chain

Chain lifting platform features lifting goods

Low self-height
A Vertical Reciprocating Conveyor (VRC) shifts materials in warehouses, factories, institutions, industrial plants or any other place where products or supplies are required to be shifted from one level to another. VRCs are not elevator rather they have their own national code and are particularly exempt from the national elevator code. VRCs ensure efficient, fast, smooth and safe access to or from balconies, mezzanines, basements, and between different levels in multi-storey buildings. The major components of a VRC are carriage, guide columns, and a hydraulic or mechanical actuating mechanism. VRCs can be used through-floor, interior or exterior applications. Our company provides the most comprehensive line of VRCs - from mechanical to hydraulic to fully automatic, customized systems for automated warehousing and manufacturing operations. Our range of VRCs can be availed in capacities ranging between 100kg to 100,000kg.
It features guide columns, which are 66% heavier than other vertical lifts available in the market and oversized bearings with a life expectancy of over 20 years - to ascertain long term operation.
Specifications:
Chain lifting platform facilitates lifting the goods through different levels of buildings

Special lifting chain with long application life

Chain lifting platform----hydraulic driven and lift by chain

The close height is low therefore no need of pit installation

Closed type structure, safe and easy to clean